1/16 RC Panzer tank III version L metal edition camouflage BB
1/16 RC Panzer tank III version L metal edition camouflage BB

The Panzerkampfwagen III (also PzKpfw III or Panzer III) was a medium German tank of the Second World War. Designed as a standard model for the future Panzer divisions, it was equipped with an armor-piercing cannon for tank combat, while the construction-like Panzer IV was to serve as a support vehicle. The Panzer III developed by Daimler-Benz, which was the most important German Panzer combat vehicle in 1941 and 1942, proved itself well in the first half of the war, but after that it quickly lost its combat value due to its limited expandability with the appearance of more powerful enemy tanks. From 1936 to 1943,5700 units were produced, whereby the chassis was produced as the basis for the much more successful Sturmgeschütz III until the end of the war.
Please note the differences to the conventional model:
2.4 GHz control
Built-in 4 in 1 steel gearbox with durable gears and a better ratio for more power
New Black Power motors with improved torque ensure more precise, realistic and jolt-free control.
Hand painted tank commander
including metal tower, metal chains, metal track rollers, traction and guide wheels, metal bottom tray
Airbrush painting in professional quality
2000 mAh Ni-Mh power battery guarantees extended gaming fun.
Controls/Functions:
Control proportional! You can start very slowly.
2.4 GHz Receiver
Forward/Reverse
halt
Forward left or right rotation
Reverse left or right rotation
Turning on the spot/Super Spin right and left
Raising and lowering guns/Gun up and down
gun turret rotates 360° (180° right / 180° left)
Ammunition firing even while driving
A warning light lights up during firing
diff. Engine/MG Sound
smoke from the mufflers
Spring-loaded track rollers
Shot function with 6mm ammunition
Ready to run
Details/scope of delivery:
R/C Panzer 3 - PzKpfw III Ausf L Torro Profi-Edition
Scale 1/16
2.4 GHz control
Metal turret with aluminium gun barrel
Metal bottom tray, metal chains, metal drive and guide wheels, metal rollers
incl. 4 in 1 steel metal gear unit
incl. new power motors
incl. smoke generator
incl. sound module
incl. shooting unit
Remote control 2.4 GHz
Dimensions: approx. 35x19x20 (LxWxH cm)
Battery 7,2V 2000mAh Ni-Mh
Travel time up to 30 min.
Charging time approx. 4 h
Shooting function can be switched off via switch
Ammunition magazine for 100 bullets 6mm
Charger 7,2V-400mA German standard
6x AA battery transmitter (not included)
approx. 100 rounds of 6mm ammunition
target
1 bottle of smoke liquid
sticker set
Small parts/accessory set/soldier
Wooden crate in ammunition box look for transport and storage
Colours: camouflage
Weight approx. 5,0 kg incl. accessories
Operating instructions English and German
Warnings:
ATTENTION:
Use under direct adult supervision
Minimum age: 14 years old
Age recommendation: from 14 years on
Not suitable for children under 36 months. Risk of suffocation due to swallowable small parts
Winkelwagen
Geen artikelen in winkelwagen.
Aanbieding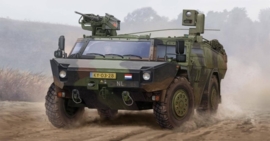 Trumpeter: Fennek LGS-Dutch Version in 1:35 [9365533]
€ 45,50
€ 40,00